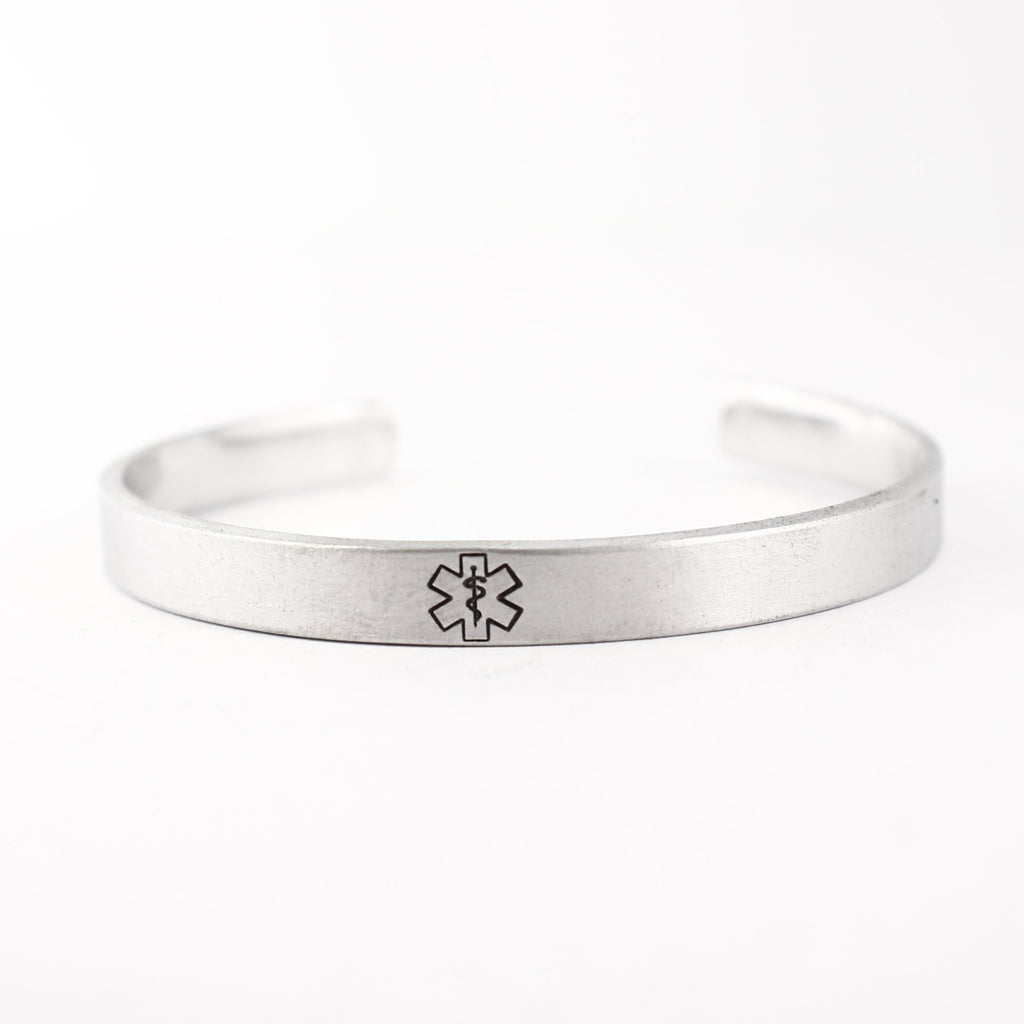 Custom Medical Alert Cuff Bracelet - 1/4" Wide Pure Aluminum or Stainless Steel
This product is available.
This 1/4" wide cuff can be stamped with the medical information you would need a responder to know in the event of an emergency. This cuff is great for conveying allergies and important medical conditions.   The outside will have the medical symbol at no additional charge.   The "both sides" option ONLY needs to be chosen if you'd also like there to be text added to the front.  
The character & space limit is 30 characters AND spaces in MOST fonts.  
We offer these in aluminum and stainless steel because they are the easiest care items for everyday use.  We are also able to make them in brass, copper, and sterling silver upon request but as we do not recommend them they will have to be special order.  Please contact us if you would like one of these other metals. 


The cuff can be easily adjusted by bending for a comfortable fit.  We have these available in 6 & 7" lengths.  6" fits most average women's wrists and most small men's wrists.  To be sure about length, please measure around your wrist, snugly yet comfortably, then subtract about 1/2-3/4" for the gap.

 

Please be sure to read the description and follow any text limits regarding your customization requests.  Failure to adhere to these limits so may delay your order.   If the text you would like to request will not fit within these limits, please contact us to discuss your options. 
Hand stamping is a much more durable and permanent method of creation than engraving or printing (sublimating) text onto metal.  The design will not wear off like paint or ink and is much more deeply set into the metal than most engraving.
EACH design and letter is individually hammered, one strike at a time, BY HAND. Because of this, there will be some variations in the spacing, depth of the designs, and placement. This is not to be considered a defect, but instead a part of the unique character of the piece.  No two pieces will ever be exactly alike.
Your gift will be shipped ready to give, tastefully carded, and tucked into a clear protective poly-sleeve.  A gift box can be added if desired by choosing that option. 
All items are shipped via USPS First-Class Mail unless a shipping upgrade is chosen to add faster options.   During high volume periods (around major gift-giving holidays), we ALWAYS recommend that you choose one of our expedited shipping options (typically a few dollars more).  These options will help ensure your gift meets its deadline and include insurance.  
"GREEN" THINKING:  The sustainability of our planet is important to us and we try to help reduce our environmental impact whenever possible.  Our standard packaging is completely recyclable, from the cardboard box and non-toxic, recycled content paper fill to the card and BOPP sleeve.  We process all orders using electronic means (tablets) and do not include a receipt in the package to avoid unnecessary paper waste.  We use natural and LED lighting in our studio.   Our precious metals are refined at a location that is environmentally and energy responsible. We recycle all acceptable waste/scrap metal to help reduce our landfill footprint.
We source many of our supplies and materials from other small domestic businesses, so purchasing from us helps other small businesses as well.     
Please be aware that the photos shown are simply a representation of previous items I have created and may not be exactly what you receive, as each item is uniquely created just for you at the time you order.
Please follow us on social! We can be found on: 
WEB: www.completely-hammered.com
FACEBOOK: www.facebook.com/completelywired
PINTEREST: pinterest.com/CompletelyWired/
INSTAGRAM: http://instagram.com/awwsomenessprime
 
 
 
 
DETAILS
:
• The cuff is 6" long, 1/4" wide, will fit most wrists, and can be easily adjusted by gently bending it to a comfortable shape.




• The bracelet will be sent with a lightly brushed finish since I feel it makes the bracelet the most legible and wears well.



• Available in Pure Aluminum, Stainless Steel, Copper, Brass and Sterling Silver.



• ABOUT PURE ALUMINUM AND STAINLESS STEEL:

Pure aluminum and stainless steel are safe on most people's skin and less reactive than even sterling silver. They will not tarnish, fade, or change colors. They are an excellent choice for those wanting the look of silver without the upkeep or expense. Aluminum is lighter and more flexible while stainless steel is heavier and more rigid. 



• ABOUT BRASS (Gold Color) AND COPPER (Like a Penny):

 Both of these metals may tarnish/develop a patina if not cleaned frequently.  As all body chemistry is different, there is no way of knowing how quickly or how dramatically this will occur.  Some people enjoy the organic look of patinaed brass and copper.  





• ABOUT STERLING SILVER: Our sterling bracelets are thicker than many sold online and have a heavy feel.  Sterling may tarnish/develop a patina if not cleaned frequently.  As all body chemistry is different, there is no way of knowing how quickly or how dramatically this will occur.




• A personalized message can be added to the back (up to 30 letters) by choosing that option.

 

This will add the additional charge to your cart and give you access to the field to enter the personalization information.

 

This site can help you with the number of characters:

http://www.lettercount.com/




• Please be sure to read the description and follow any text limits regarding your customization requests.

 

Failure to adhere to these limits so may delay your order.

 

If the text you would like to request will not fit within these limits, please contact us to discuss your options.


• An Austrian crystal birthstone or additional charms of your choice can be purchased separately to make this item your own. They can be found in our "add ons" section: https://www.completely-hammered.com/collections/add-ons

• Hand stamping is a much more durable and permanent method of creation than engraving or printing (sublimating) text onto metal.  The design will not wear off like paint or ink and is much more deeply set into the metal than most engraving.
 
• EACH design and letter is individually hammered, one strike at a time, BY HAND. Because of this, there will be some variations in the spacing, depth of the designs, and placement. This is not to be considered a defect, but instead a part of the unique character of the piece.  No two pieces will ever be exactly alike.

• Your gift will be shipped ready to give, tastefully carded, and tucked into a clear protective poly-sleeve.  A gift box can be added if desired by choosing that option. 

• All items are shipped via USPS First-Class Mail unless a shipping upgrade is chosen to add faster options.   During high volume periods (around major gift-giving holidays), we ALWAYS recommend that you choose one of our expedited shipping options (typically a few dollars more).  These options will help ensure your gift meets its deadline and include insurance.  

• "GREEN" THINKING:  The sustainability of our planet is important to us and we try to help reduce our environmental impact whenever possible.  Our standard packaging is completely recyclable, from the cardboard box and non-toxic, recycled content paper fill to the card and BOPP sleeve.  We process all orders using electronic means (tablets) and do not include a receipt in the package to avoid unnecessary paper waste.  We use natural and LED lighting in our studio.   Our precious metals are refined at a location that is environmentally and energy responsible. We recycle all acceptable waste/scrap metal to help reduce our landfill footprint.

• We source many of our supplies and materials from other small domestic businesses, so purchasing from us helps other small businesses as well. 

• Please be aware that the photos shown are simply a representation of previous items I have created and may not be exactly what you receive, as each item is uniquely created just for you at the time you order.


Please follow us on social! Links to our social media pages can be found in the page footer.


---
---
More from this collection